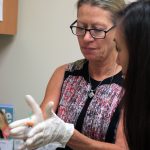 I am both a headache specialist and a migraine sufferer. I know first-hand the disabling and unpredictable nature of migraine attacks.  The driving passion in my life is to alleviate the suffering of migraine in patient's lives and to help give them their life back.  Although there is no cure for migraine, there are very effective treatments that can help individuals live their lives despite their migraine attacks and not "tip-toe" around them.
My background includes practicing family medicine for 21 years with a special interest in women, hormones, and migraines. In 2006 I became certified in Headache Medicine and in 2007 founded Orange County Migraine & Headache Center in Irvine, Ca. I continue to see patients in this setting.  In addition, I love educating, teaching, and speaking on the subject of migraines whether the audience is health care providers, medical students, residents, media, or the lay public.
In 2013 my book The Woman's Guide to Managing Migraine: Understanding the Hormone Connection to Find Hope and Wellness was published. My purpose was to bridge the gap between neurologists not understanding the hormone connection in migraine and gynecologists not feeling comfortable treating migraine in their women suffering with menstrual migraine. I have received great feedback on this book and hope to publish a 2nd edition in 2017.