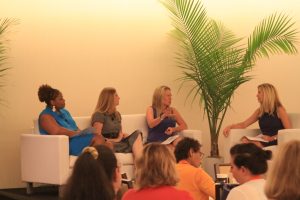 Last Saturday, August 6th, 2016, Dr. Susan Hutchinson appeared at the BlogHer16 conference at the JW Marriott Los Angeles as part of a panel sponsored by More To Migraine. Attendees took in a discussion about migraine, its impact, and resources to help manage it. It included a video introduction by Jennifer Morrison and a panel discussion moderated by Serene Branson, reporter for CBS2/KCAL9 Los Angeles and also featured Shannon Albert: Wife, mother and educator who has battled increasingly severe migraines since the age of eight, and Jaime Sanders: Author of "The Migraine Diva," blog who has been living with migraines for more than 30 years.
Dr. Hutchinson touched on the high prevalence of migraine in women compared men and reviewed how migraine is "much more than just a headache" both in her own life and in her patients' lives. The severity of the pain, the nausea and vomiting, the sensitivity to light and noise, and unpredictability of migraine all cause major disruption in the lives of women with migraine.
The good news is that an effective treatment plan is possible for migraine suffereres. In her own life, Dr. Hutchinson has found treatment for her migraines that now is making it possible for her to compete in a 1/2 Ironman Triathlon at the end of September realizing a dream of hers.