Available Now!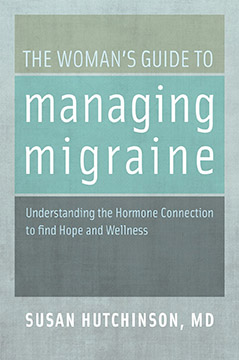 The critically acclaimed The Woman's Guide to Managing Migraine (Oxford University Press) is a concise and practical handbook that gives female headache sufferers all the tools they need to work with their healthcare providers to properly diagnose types of headache and develop the best possible treatment plans.

on Amazon. Order now.
Dear Dr. Hutchinson,

I've just finished The Woman's Guide to Managing Migraine and it's been so helpful. I'm a family physician in London, Ontario, Canada with many women in my practice who suffer migraine. Thank you for presenting the information in such a readable way and I especially thank you for providing the specifics of dosing, frequency, etc. of medications. I also really appreciated the case examples and the specifics of how you'd approach them. I will definitely recommend the book to my patients and will also be pulling information from it to help them!

Kind regards,
Natalie Lovesey
Don't Miss Out!
Get all the Latest Women's Migraine Health News, Exclusive Tips and More in Your Inbox!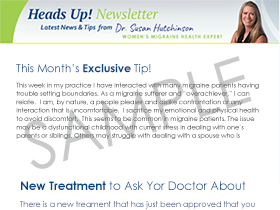 Dr. Susan Hutchinson is a featured speaker for next Saturday's (7/11/2020) Miles for Migraine Educational Event San Diego 2020. It is virtual and registration is free. Read on for more info.
As many of you are aware, I was asked to go to India with a team of international headache experts to educate local providers. Each one of us on the team had a specific purpose and for me, it was to focus on the treatment of migraine in women. The need for good migraine management in India is great. With a population of over 1.3 billion, the estimated prevalence of migraine in India is over 150,000 million. By comparison, the prevalence of migraine in the United States is 38 million.